Cubivore was released in 2002. It was made for the nintendo gamecube.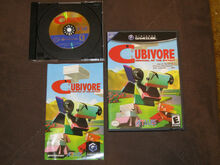 The Game Physically
Cubivore comes in a standard gamecube case, With it's box art.
The box art has three Cubivores on the front with the words "Cubivore: survival of the fittest" near the top, and the ESRB rating (E for everyone) at the bottom right corner.

The back of the box art has a main blurb near the top explaining the game, with a few notes below showing off the features of the game. Three pictures on the right show screen shots of gameplay.
The game comes with the game disc. The game disc is blue and red. Cubivore reads at the top in red. Information in blue is near the bottom of the disc, and Atlus's logo is to the right of the game disc.
A manual is included with Cubivore. It has much information on how to play the game, and also has an ad for the Cubivore toys in the back.
Prices
Cubivore cost less then $30 at it's launch.
It can now cost from $50 (Just the disc) to $150+ (Complete with game, box art, and manual). This is because of low sales in both Japan, and Usa, Making Cubivore hard to find.
Buy Cubivore
Ebay: http://www.ebay.ca/sch/i.html?_nkw=Cubivore&ssPageName=GSTL
Amazon: http://www.amazon.ca/s/ref=nb_sb_noss?url=search-alias%3Daps&field-keywords=Cubivore
Half: http://search.half.ebay.com/Cubivore_W0QQ_trksidZp3030Q2em1446Q2el2686
Trivia
- A sealed Cubivore can cost $300+
- Becuase of how the Cubivore game disc was designed on the front, it can be more vulnerable to scratches. This is because of the front of the disc not having print completely covering it unlike, for example, Paper Mario the thousand year door, which is almost completely covered in print on the front.
- The Cubivore disc looks purple when spinning in the gamecube.
Ad blocker interference detected!
Wikia is a free-to-use site that makes money from advertising. We have a modified experience for viewers using ad blockers

Wikia is not accessible if you've made further modifications. Remove the custom ad blocker rule(s) and the page will load as expected.