Cubivore was released in 2002 for the Nintendo GameCube.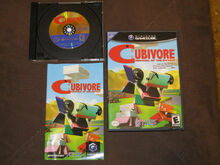 Physical game package
Cubivore comes in a standard, single-disc GameCube case (with memory card slot).
The cover art has three Cubivores on the front: The middle beast is a Chicky with Horns and Scar. The game's title, "Cubivore: survival of the fittest", is near the top. At the bottom, the Nintendo Seal of Quality is bottom-left, Atlus's logo is in the middle, and the ESRB rating (E for everyone) is on the right.

The back of the box has a main blurb near the top explaining the game, with a few notes below showing off the features of the game. Three pictures on the right show screen shots of gameplay.
The game comes on one blue-and-red GameCube Game Disc.
A full colour, 40 page manual gives lots of information on how to play the game, diagrams showing Cubivore anatomy, and has an advert for the Cubivore toys in the back cover.
There may also be a Nintendo GameCube Health and Safety Precautions Booklet included.
Value
Cubivore cost less then $30 at launch. Due to low sales in both Japan and the USA (the game was not released in Europe), copies of Cubivore are now hard to find. It has also never been re-released, remade or re-printed, physically or digitally.
It can now cost from $50 (just the disc) to over $150 (complete with game, box art, and manual). A sealed copy of Cubivore can cost more than $300.
Used copies can be found on eBay, Amazon and Half.
Trivia
Because the game disc's design does not completely cover the front of the disc (unlike, for example, Paper Mario the thousand year door), the disc can be more vulnerable to scratches.
The Cubivore disc looks purple when spinning in the GameCube.